Jurassic World: Dominion Dominates Fandom Wikis - The Loop
Play Sound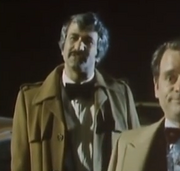 Vimmal Malik was a character in Only Fools And Horses who appeared in Cash And Curry (22nd September 1981). He posed as a rich man but was a con merchant who swindled Del and Rodney out of £2000. Vimmal was played by Ahmed Khalil.
Biography
[
]
1981
[
]
Del met Vimmal at a gala and Vimmal said he was a rich businessman and had a rivalry with Mr Rham. During an altercation between Rham and Vimmal and Odd Job Man, Rham's bodyguard, Del told Rodney and Vimmal to get in the van quickly. Rodney drove off with Vimmal, leaving Del and Rham stranded. Del was annoyed but offered Rham a nightcap. Rham took Del to a restaurant where he said he had a rivalry with Vimmal's family stretching back 100 years. Rham said he had a statuette and wanted it back from Vimmal and would reward Del and Rodney £4000 for it. Del saw pound signs. Del planned to get the statuette back off Vimmal for Rham. Del says Rham has offered just £2000 for it, this means Del can earn £2000 from the scam. When Vimmal goes to collect the statue, Rodney asks Del why he is trying to con Malik out of £2000, as Rham offered £4000. Del persuades Rodney how they could earn out of this and Rodney agrees. When Vimmal returns, he says the statue will stay in his sight until he gets the money. Del even raised £2000 for the statuette by selling lots of gear and even selling Grandad's TV, which he was actually renting off a rental company. Vimmal then handed the statuette over to Del Boy. Del and Rodney went to see Rham, saying they had the statuette but spoke to a man who claimed to be the real owner of the Indian restaurant. Del said Rham said he owned 18 restaurants. The restaurant owner says he knows Mr Rham and that he gave him a bouncy cheque, and he had scarpered from his recent address, owing 3 weeks rent. Rodney was dismayed realising they may have been conned.
It turned out Rham and Vimmal were both crooks and were scamming people. When Del had given him the £2000 for the statuette, Rham and Vimmal quickly scarpered. Meanwhile Rham and Malik are being driven in a car down the motorway, congratulating themselves and laughing and joking at Del and Rodney for falling for the scam. They have done this in other cities and now plan to head to Liverpool or Birmingham to con more people.
Appearances
[
]