Tyler Boyce is a character appearing in Only Fools and Horses. He is son to Aubrey Boyce and his wife Marlene. His story is continued in the spin off series The Green Green Grass, which began filming in June 2005, in which he and his family fled from The Driscoll Brothers to the countryside.
Tyler's introduction into Only Fools and Horses was to fuel a joke in which Del doesn't believe in seances. Boycie had been contacted during the seance and told by his father that he should look after his child. Thinking that it was a sick joke on behalf of his father's joke, he stormed out. Later, Del was contacted via the medium by his mother and told to go and have his pains looked at. After telling Rodney that it's a load of cobblers, he finds out that Marlene is in fact pregnant, but this time it is Boycie's baby who is finally christened after the Jolly Boys Outing
Biography
[
]
1989-2001
[
]
One of his appearances in Only Fools and Horses was in the episode "The Jolly Boys' Outing", in which Uncle Albert told him one of his many war stories. Tyler made other appearances in the show but didn't really feature much until the beginning of The Green Green Grass. His introduction in the spin-off hyped the speculation that Tyler might have been a result of something between Marlene and Del.
At the age of 2, Tyler was present for Damien Trotter's Christening in 1991 (Miami Twice) where he attended with is parents Marlene and Boycie. The three of them are about to jet off for 3 weeks to America and Boycie is more worried about getting home to finish the packing.
2005-2009
[
]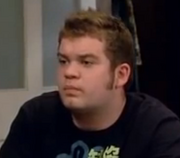 Tyler has a girlfriend called Beth from the episode "Pillow Talk" to "The Special Relationship". He has a new girlfriend from the fourth series called Sara. She first appears in the episode "Calendar Boys". Tyler has no on-screen friends in the country. Tyler has appeared in nearly every episode of the series.
Memorable info
[
]
Family
[
]
Appearances
[
]
Only Fools And Horses
The Green Green Grass