Sue Hol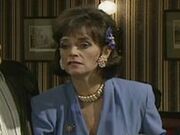 derness is an English actress who played Marlene in Only Fools And Horses from 1985 to 2003 and the same role in the spin-off Green, Green Grass, which ran from 2005 to 2009. She later reprised the role briefly for a promotional video in 2015 for Del Boy's autobiography, which acted as a tie-in to the series.
Only Fools And Horses
[
]
Other TV roles
[
]
In 2018 she joined the sitcom Still Open All Hours as Mrs. Rossi, and co-starred alongside David Jason who plays Granville.
In 2021, Sue joined the cast of EastEnders.