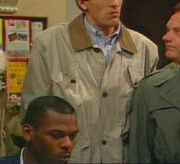 Steven Woodcock is an English actor, writer and musician who played Jevon in Only Fools And Horses in 1988 and 1989. Due to landing a long term role in fellow BBC TV show EastEnders in 1990, Steven only appeared in 5 episodes as Jevon, however Jevon was occasionally mentioned after his last episode.
Pre Only Fools And Horses
[
]
Born on the 23rd February 1964.
Only Fools And Horses
[
]
After OFAH
[
]
In the spring of 1990, Steven landed the role of Clyde Tavernier in BBC soap EastEnders. Steven played the role until 1993. His EE role probably was why he did not appear in OFAH after 1989. After he left EastEnders in 1993, Steven did not reprise the role of Jevon in OFAH.
His last known TV role was in 1997, as since then he has concentrated on composing music, and writing.
Steve is a keen boxer.
Refs
[
]