Solly Attwell was a character in Only Fool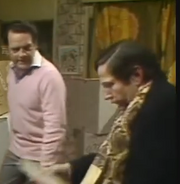 s And Horses in 1 episode, Hole in One. He was a dodgy lawyer who tried to assist the Trotters in suing the brewery. Albert Trotter had "fallen" down the cellar but the hospital gave him the all clear yet Solly still hoped to sue for negligence.
Biography
[
]
1985
[
]
1993
[
]
When Del was charged with selling Peckham Spring water which was contaminated, Solly told him that he could go directly to jail because of this. Del still paid Solly to defend him in court. The case against Del would be dropped due to lack of evidence.
Appearances
[
]
1985