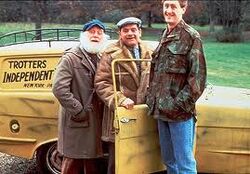 Luvvly Jubbly, you dozy twonk. This is my very own wiki of the iconic BBC1 comedy Only Fools And Horses starring David Jason and Nicholas Lyndhurst. Set in a flat in Nelson Mandela House, Nyrere Estate, Peckham, London, SE15, a towerblock Peckham in South London it followed the lives of dodgy market traders Derek "Del Boy" Trotter and his brother Rodney Trotter and their Uncle Albert Trotter (originally their Grandad).
The purpose of this wiki is to aim to make it a comprehensive encyclopaedia on the best ever comedy series with detailed biographies on every character from Del Boy and Rodney to the most minor character who said 1 line in an episode, and detailed episode by episode synopsises, photos and screengrabs, this is a must for any Only Fools And Horses fan. Most of the episode synopsises are in my own words, but a few lines are copied from Wikipedia but doctored a bit. Kushti Rodders.
I have even created pages for unseen characters such as members of the Trotter family never seen, such as George Trotter, whom was mentioned by Albert Trotter once, as long as they were mentioned in Only Fools And Horses or their spin offs The Green, Green Grass and Rock & Chips. This wiki is aimed at being the ultimate resource of the show.
The Main characters (Click the boxes to be linked to their page
Quick Links
Latest activity