The Sandman Will Keep You Awake - The Loop
Play Sound

Marlene Boyce (née Lane) was a character in Only Fools And Horses and the wife of "Boycie" aka Terrance Aubrey Boyce. She was initially just an unseen character, occasionally mentioned by her husband. She was a cheerful, slightly daffy woman whose burning, and seemingly unattainable, desire to have a child provided one of the show's earlier "soap opera" sub-plots. Details were occasionally revealed about Marlene's prior reputation as being popular with the local men; there was a consistent undercurrent of an affair between her and Del. She did finally have a son called Tyler. Questions over the latter's paternity, owing to Marlene's reputation and Boycie's low sperm count, were a recurring gag. Marlene was played by Sue Holderness.
Biography
[
]
Backstory
[
]
Marlene Lane was born in about 1945 to Dora Lane and her husband, who was a tattooist. She had a brother Bronco Lane (Bronco probably being a nickname) and a sister Pertunia Lane.
By the early 1960s all the lads in Peckham had a dalliance with Marlene. Roy Slater and Trigger would often comment on this years later.
In 1963, Marlene met Derek "Del Boy" Trotter at a betting shop down Lewisham Grove and they began dating, whilst she was actually seeing Boycie at the time. Del planned to take her on the holiday of a lifetime but one day she packed him in suddenly, yet the night before he had taken her to his flat so she could meet his mum and dad for the first time. Del never got his money back from the caravan site he had booked for their holiday. Marlene later married Boycie in 1969.
1985
[
]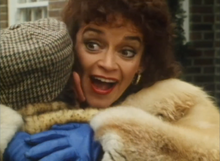 Marlene is first mentioned in "Go West Young Man" when Del buys an old Ford Cortina MkII Crayford Convertible for £25 from Boycie's used car lot, while also agreeing to store a Jaguar E-Type Series III V12 in their garage for a week, which Boycie has bought for his "bit on the side" and wishes to hide from his wife, referring to Marlene.
2001-2003
[
]
In Sleepless In Peckham, Marlene has been gone for a week and people start suspecting things. Also Denzil has been missing and people suspect they ran off together. In The Nag's Head there is even a raffle to guess whatever happened to Marlene, including the suspicion that Denzil has run off with her since he's been missing as well, only him to appear at The Nag's Head and says he has been in hospital with piles and has not run off with Marlene. Del and Rodney say that Boycie took out a life insurance policy on her. Del and Rodney visit Boycie and Del bluntly says he thinks Boycie killed her and buried her in the garden. Boycie is angry and says he has never been insulted so much in his life. He spent many hours on that garden, he is not going to just dig a hole in it. He says she is upstairs. Del cannot hear her and Boycie says she is a deep sleeper.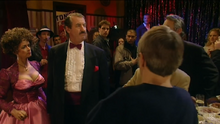 At The Nags Head, Marlene turn up and it's revealed that she has had a boob job and has been healing from the surgery. Everyone takes the mickey. Marlene and Raquel Turner have a row after Marlene praises her dress then says she must pick up the curtain from the cleaners on the way home. Raquel mocks her boob job and her age. Sid throws Marlene out, unaware it is her and Boycie's anniversary do.
The Green, Green, Grass (2005-2009)
[
]
Due to Boycie snitching on the The Driscoll Brothers, Boycie sells his showroom and house and moves to rural Shropshire in order to get away from them with Marlene and their son Tyler.
In the final episode "For Richer For Poorer", Marlene is planning a huge party to celebrate their Ruby wedding anniversary. Marlene has contacted their old Peckham solicitor. However, he brings bad news - the registrar that married them was unlicensed, so they have never been married.
After The Green, Green, Grass
[
]
In 2015, Marlene and Boycie sat together as they read separate copies of Del Boy's new autobiography. Although Marlene didn't mind it, Boycie found Del Boy's description of him in it insulting.
Memorable info
[
]
Born: About 1945
Full Name: Marlene Boyce (Nee Lane)
Parents: Mr Lane and Dora Lane
Siblings: Bronco Lane, Pertunia Lane
Spouse: Aubrey Boyce (1968-2009) (unofficial), 2009- (official)
Children: Tyler Boyce (1989)