The Sandman Will Keep You Awake - The Loop
Play Sound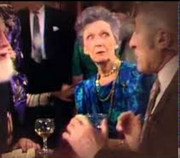 "Knock Knock" was a minor character in Only Fools And Horses and appeared in 1 episode, He Ain't Heavy, He's My Uncle. He was an old schoolmate of Albert Trotter and as adults they clashed. One time during a row over Dora Lane (Marlene's mum) Knock Knock hit Albert when Albert challenged him to a fight. Despite his age, Knock Knock must have had a hard punch as Albert's right eye was badly bruised. Yet Albert pretended he was mugged. "Knock Knock" was played by Howard Goorney.
Knock Knock's real name was never revealed.
Biography
[
]
Backstory
[
]
Knock Knock, as he was nicknamed, went to Dockside Secondary Modern school with Albert Trotter and was 3 years above him so could beat him at anything. He often used this to pull rank over Albert when they became adults.
1991
[
]
In January 1991, Albert and Knock Knock played dominoes down The Nags Head with Dora Lane, Marlene's mum. They started to argue over Knock Knock being a better player. One time Albert wanted to fight Knock Knock but Marlene made his sit down again and behave like grown ups. Albert lost all his money at dominoes. On the way home from the pub one night, at the adventure playground on the Nyrere Estate, Albert and Knock Knock had a row over Dora, he kept saying he was better than Albert at anything. Albert squared up to him and Knock Knock hit him hard in the eye, giving him a severe black eye, quite a brutal old man was Knock Knock when it came to punches. Knock Knock then quickly fled the scene and Albert was found by passers by, and said he had been mugged. An ambulance was called. Rodney was walking home and saw the scene, rushed up to Del's flat and told him. They rushed to the hospital.
Albert was sent home the next day and told to get lots of rest. One time, Del and Rodney thought they should toughen up on Albert to get him back to his old self as he was moping around the flat all the time. The scheme did not work and Albert run away during the night. Del and Rodney looked all over London at his old haunts and found him at Tobacco Road and bought him home. Del had some skinheads in the pub beaten up, as they had been seen hanging around the estate at night, but they were undercover policemen. Knock Knock returned Albert's pocket watch and the truth was revealed, Albert never was mugged.
Memorable info
[
]
Appearances
[
]