Julie The Barmaid was a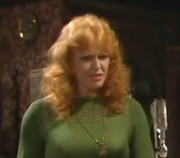 character in Only Fools And Horses in 1982. She was a barmaid at The Nags Head.
Biography
[
]
1982
[
]
Julie was a very tall woman who was quite rigid in her manner. She was last seen when she served Derek "Del Boy" Trotter after he had been in a fight with Tommy Mackay. After this she probably left the Nags Head and her successor was the barmaid was Karen.
Appearances
[
]
1982
A Losing Streak (4th November 1982)

No Greater Love (11th November 1982)