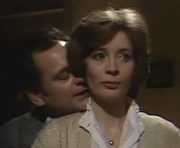 Heather was a character in OFAH in one episode, Diamonds Are for Heather (30 Dec 1982). She was the lastest of Derek "Del Boy" Trotter's girlfriends, Del also had some hookie washing powder to flog. Heather was played by Rosalind Lloyd.
Biography
[
]
Backstory
[
]
Heather met and married a man called Vic. In 1979 they had a son Darren. In May 1981, Vic walked out on Heather and Darren, saying he was going down the job centre, but did not return. Heather was left to bring Darren up. She lived in Brixton but frequented The Nags Head in Peckham.
1982
[
]
In November 1982, at a Spanish night at The Nags Head, Del met Heather as she was sat at the bar. He chatted her up. She took him back to her flat for a nightcap. She said how her husband Vic had walked out on her and Darren 18 months ago when he lost his job. She says she does not care where he is. Del invited her and Darren on a day around London.
After 6 weeks, Del and Heather put down for a council house. Del took to her son Darren, and Darren did to Del. They played football together.
As Christmas was approaching, Del planned a lovely meal out with Heather at The Star Of Bengal, and also got an engagement ring, which he borrowed on a weeks approval off his mate Abdul Khan, a jeweller at Hatton Garden in Holborn.
As a celebratory Del ordered the dinner from Tony The Waiter, Heather felt she had something to tell him. Del presented her with an engagement ring. She was flattered but she said she got a letter from her estranged husband Vic a few days ago. He has now got a job and a flat in Southampton and wants her and Darren to move down there to be with him. She says to Del that she has accepted Vic's offer of a reconciliation. Del's happiness turned to dismay. Del tells her not to belive all that pony, as his dad Reg walked out on him 18 years ago. She says that Vic was stressed and unemployed when he left, and is still her husband and is Darren's father, and she feels she owes it to him. She says she leaves next Tuesday and asks Del if he will come round to the flat to say goodbye to Darren. Almost in tears, Del shakes his head as he hates goodbyes. Del then says he only had the ring on a weeks approval. Heather says she does not feel hungry anymore and she quietly leaves the restaurant. Del and Heather never saw each other again.
Heather left for Southampton the following Tuesday.
Memorable info
[
]
Born:
Full Name:
Parents:
Siblings:
Spouse: Vic (??-present)
Children: Darren (1979)
Appearances
[
]