Edward Kitchener Trotter, often referred to as Grandad, was a fictional character on Only Fools and Horses and its prequel Rock & Chips. He was the father of Reg, father-in-law of Joan Mavis Trotter, grandfather of Derek "Del Boy" Trotter, step grandfather of Rodney Trotter and great-grandfather of Damian. He originally appeared in 24 episodes, including Christmas episodes Christmas Crackers and Thicker Than Water. He was played by Lennard Pearce and later Phil Daniels.
Biography
[
]
Backstory
[
]
1905-1959
[
]
Edward "Ted" Trotter was born in Tobacco Road, Bermondsey, London in 9th July 1905, the second eldest of three children to Jack Trotter Snr and Victoria Trotter. He had and older brother George Trotter and two younger brothers Jack Trotter and Albert Trotter born c1915. Edward stated that his earliest memories were of watching the soldiers marching off to World War I and witnessing their return after the armistice in 1919. He later spoke of the horror of these experiences in "The Russians Are Coming" with his now famous quote describing the wartime government policy: "They promised us homes fit for heroes, we got heroes fit for homes!".
In 1922 after leaving school, Grandad got a job as a decorator working for the Council, but was fired a few days later after he wallpapered over a serving hatch. He then began working as a lamp-lighter for the London Gas Light & Coke Company. Edward marred at a young age in 1923 to Violet Trotter and they had one son Reg Trotter in 1924. He later got a job as a security guard at a factory. By the 1930's, Grandad was unemployed and living with his parents and three brothers, George, Jack, and Albert, in Peabody Buildings, Peckham Rye. In 1936, Grandad and his friend Nobby Clarke ran away to Tangier to join the French Foreign Legion, they were however unsuccessful and ended up working for a weapons smuggler, gun-running into Spain during the Spanish Civil War. The two were caught by the authorities and following interrogation were deported from Spain and all her territories and dominions. Grandad returned to Peckham and joined the dole queues, returning to his wife and son sometime before the war.
During World War II, Grandad evidently served some time in the army as he told Del he was given a double-headed coin by a Scottish soldier, and his son Reg checked his blood group on his old army records, however Grandad was demobbed before the end of the war as he temporarily separated from Violet and had an affair with Trigger's grandmother Alice, while her husband Arthur was still fighting.
After the war, Grandad had various short-term jobs before he retired, including working as a security officer at a warehouse in Chingford which Grandad was sacked from after a janitor stole over three hundred briefcases from under his nose. Violet, who apparently worked as a char-lady in these later years died when Rodney was still young.
Rock & Chips
[
]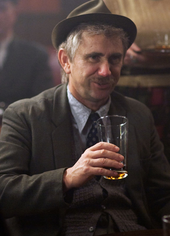 In January 1960, Grandad was thrown out of his flat in Deptford by his wife Violet after she found out about his affair with Alice Ball during the war. Unemployed and subsequently homeless, Ted would move in with his son Reg, daughter-in-law Joan, and grandson Del in Orchard Street that same month, and would stay there until they moved into Sir Walter Raleigh Tower in September that same year.
, after she finds out about his affair with Alice. Grandad (called by his real name "Ted" throughout the story) then moves in with his son Reg. The Trotters are at that time squeezed into a two-up two-down terraced house and Grandad is forced to share a bedroom with his grandson Del. They then moved into a 12th floor flat in a new towerblock in late 1960, at Sir Walter Raleigh House (later renamed Nelson Mandela House, Nyrere Estate, Peckham, London, SE15). That December, he said he was 10 years off getting his pension.
In early January 1964, when Joan's declining health prevented her from getting out of bed, Reg ran off, but Grandad stayed behind to help Del out with Rodney before taking him over to Violet's house, while Del called Dr. Becker, who examined Joan before calling for an ambulance. The next day, Grandad and Rodney would meet up with Del at the hospital to see Joan.
After Joan died on 12th March 1964 due to an alcohol-related illness, Grandad would look after Rodney, while Del and Reg ignored each other.
When Reg walked out on his family on Del's 19th birthday that same year, Grandad refused to believe that his own son was spineless.
For the rest of 1964, after Joan died and Reg ran away, Grandad would take turns with Violet and Reenie Turpin in babysitting Rodney while Del was conducting business at the market. In 1970, Grandad turned 65 so got his pension.
Only Fools & Horses (1981-1985)
[
]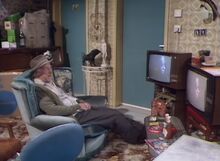 Grandad Grandad appears in the very first Only Fools and Horses episode "Big Brother". Set in 1981, Grandad is by this point was about 75-76 and still living at Nelson Mandela House with his grandchildren and was the elderly chief tenant of the flat as Del and Rodney gave him the housekeeping money. In the episode he is watching Sidney Potter on the telly and is impressed by him as an actor, whilst Rodney Trotter is keeping accounts for Trotters Independent Traders. Rodney believes his name is Poitier and argues that this is his surname, and Grandad argues that it's Potter. Rodney's older brother suddenly Derek "Del Boy" Trotter enters the room and settles it as Harry Belafonte,
He was a pretty crafty man as well, as he conned Del out of £50 by betting that his latest scheme would fail. Del had handed him 1000 leaflets to distribute around Peckham for his Trotters Ethnic Tours business but Grandad threw all the leaflets in the dust chute. Del found this out after no one turned up for the tour. Del had admitted defeat due to no one turning up but then went to throw a sign saying "Trotters Ethnic Tours Departure Point" in the dust chute and saw the 1000 leaflets. Grandad was quite a bad cook and always used to overcook the food or burn it.
In December 1983, Grandad was pleased to see the return of his son Reg to the fold after 18 years. Del was angry as Reg had left him, Rodney and Grandad when Del an Rodney's mum died. Reg pretended that Del was not his son so he could reclaim his position as head of the family. This was done by doctoring a blood test when he told Del and Rodney they may have a hereditary blood disorder he has got. Del and Rodney were given the all clear. The truth outed when Del checked with Dr Becker. Del soon sent Reg packing. Grandad finally realised Reg was just a dirty conniving git.
In early to mid 1984, Grandad and Rodney mocked Del Boy jokingly about his latest scheme, when he wanted to be an oil tycoon by buying a oil rig for £400 off a Scotsman. Rodney said oil rigs cost £1000'000s upon £1000'000s and they weigh 100'000 tonnes and are about 40 to 50 miles offshore.
In early January 1985, just after New Year's, Grandad slipped over in the doorway of his bedroom and was taken into hospital as his health worsened due to a stroke. He said bonjour to this mortal curl, or in shortened terms - died, in January 1985 aged 79. He was buried in Peckham Cemetery. His younger brother Albert then came to live with Del and Rodney.
Memorable info
[
]
Observations
[
]
Personality
[
]
He appears to enjoy a close relationship with his family and remains with them when they move to their new council flat in Nelson Mandela House, even after the death of his daughter-in-law Joan.
Despite the fact that Grandad is largely infirm and useless, the Trotters' sense of family loyalty means that he would never be left without a home. He is, however, often treated with a level of light-hearted abuse by Del and Rodney when his docile nature becomes an inconvenience causing desperation. For example, in "The Yellow Peril", Grandad takes a phone call for Del; Del informs him to tell whoever is on the other end that he has gone out. Grandad informs the caller of this, but then looks rather confused; he mutters "I'm not sure" before shouting "Where've you gone to, Del?" Grandad is a terrible cook, he'll often walk into the living room and wail miserably "Del Boy, I've burnt your bacon!" As mentioned in "Wanted", Del Boy also played an April Fool's joke on Grandad, telling him that the pools had called to say that he'd won half a million pounds. Grandad went to Soho and celebrated, then realised that he didn't do the pools. Grandad's favourite television shows are Crossroads and The Dukes of Hazzard, as revealed in "Homesick" and "May The Force Be With You". He also owns an allotment, as mentioned in "The Russians Are Coming", as well as seen in "Mother Nature's Son".
However, despite his senility and simplicity, Grandad was more crafty than he let on - wangling himself a bungalow by feigning illness being one of his many talents as seen in "Homesick". Similarly, in "Who's a Pretty Boy?", he conned Del Boy out of £5, informing him the canary he purchased from the pet shop cost him £50, when in reality cost him £45 (Del Boy finds out at the end of the episode, and replied "£45 Pounds?", to which Grandad innocently replies, "What did I say?") And in "A Slow Bus To Chingford", Grandad almost succeeds in conning Del out of £50 by betting him that no-one will turn up for the Trotters' proposed "ethnic bus tours of old London" - and then failing to deliver the tour's publicity leaflets (a ploy only foiled when Del Boy discovers the discarded leaflets in the dust-chute at Nelson Mandela House). "It wasn't me, Del Boy," Grandad whines on being discovered on this occasion; "It was me brain!"
Given the task of minding the Trotter flat from the comfort of his much loved armchair, Grandad had an easy life. Grandad was also responsible for the spectacular (and noisy) failure of Del's chandelier cleaning business in "A Touch of Glass".
List of Appearances
[
]
Only Fools And Horses
1981
1982
1983
1984
Rock And Chips (Only Fools And Horses prequel set in 1960-1962)