Elsie Partridge was a minor character in Only Fool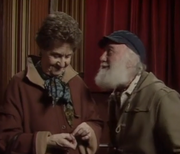 s And Horses who was mentioned in
The Unlucky Winner Is....(29th January 1989)
and seen in
Sickness And Wealth (5th February 1989)
and mentioned again in
If They Could See Us Now (25th December 2001)
. She only appeared in 1 episode, which was the aforementioned Sickness And Wealth. Elsie was played by
Constance Chapman
.
Biography
Edit
Backstory
Edit
Elsie married a man and they had 11 children together. He then got fed up and died. She was a medium who held seances in the 1960s and earned some money from it.
Albert Trotter met Elsie at a bingo game and took her out on a date. His nephew Derek "Del Boy" Trotter referred to her as the old lady who lived in the shoe. Rodney Trotter told his girlfriend Cassandra Parry about Elsie, saying she had 11 kids and her husband got fed up and died. Albert planned a romantic evening with Elsie at The Trotters flat, 12th floor of Nelson Mandela House.
About 6 weeks later, Del was cash strapped, he had rent arrears and had stomach pains. He heard that Elsie used to hold seances. Del saw ££££ signs and wanted to employ her while earning lots of money himself. Del and Elsie hed a dummy run at The Nags Head. Del's younger brother Rodney Trotter and his uncle Albert Trotter knew that Del was refusing to see a doctor about his stomach pains and the only person he would ever listen to was his late mum Joan Mavis Trotter. So Albert asked Elsie to pretend to get a message from Del's mum that he has to go and see a doctor. The ploy worked and Del went to see a doctor but as he did not say the truth about his lifestyle, he ended up being admitted to Peckham General Hospital. Del was worried about the diagnosis but he was right all along, it was just "Yuppie Flu", otherwise Irritable Bowel Syndrome, and he was given some tablets.
Elsie died inbetween 1989 and 2001 as by 2001, Del mentioned that Elsie had died and spent her last 6 months in a care home.
Memorable info
Edit
Born: About 1910
Full Name: Elsie Partridge (Unknown Maiden Surname)
Parents:
Siblings:
Spouse: Mr Partridge (??-Before 1989)
Children: 11 children
Appearances
Edit