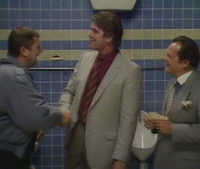 Eddie Chambers was a minor character in OFAH who appeared in 1 episode, The Jolly Boys' Outing, broadcast 25 December 1989. He was an old friend of Mike Fisher. Eddie was played by Steve Alder.
Biography
[
]
Backstory
[
]
Eddie Chambers used to live in the East End of London and ran a pub. Opposite the road was another pub run by Mike Fisher. They used to be rival landlords.
Sometimes in the late 1970s or early 1980s, Eddie Chambers emigrated. He bought a pub on The Isle Of Wight, off the coast of Hampshire. He then bought a nightclub called The Mardi Gras in Margate, Kent.
1989
[
]
In August 1989, Eddie Chambers visited The Halfway House, maybe to see friends, and by chance the same day, his old friend Mike Fisher was stopping off there with his friends of Peckham, on their way to Margate for the day for the annual beano. Derek "Del Boy" Trotter struck a deal with Eddie by buying tickets which he and Rodney would use later that day.
Memorable info
[
]
Appearances
[
]
1989
The Jolly Boys Outing (25th December 1989)