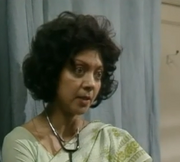 Dr Shaheed was a minor character in Only Fools And Horses who appeared in 1 episode, Sickness and Wealth. She was the replacement doctor for Dr. Robbie Meadows as he now worked at the hospital. She saw to Derek "Del Boy" Trotter when he was complaining of stomach pains. Dr Shaheed was a slightly pompous woman who was not impressed by Del's nervous joking, and how he stripped from the waist down instead of to the waist. Dr. Shaheed was played by Josephine Welcome
Biography
[
]
Backstory
[
]
Dr Shaheed lived in New Delhi and trained as a doctor before emigrating to England.
Role in "Sickness And Wealth"
[
]
Dr Shaheed was the new doctor who had taken over from Dr Meadows. She is a bit curt and is not amused by Del Boy's nervous joking. She asks him to strip to the waist and he strips from the waist down. Del says he has stomach pains. As he lies about his lifestyle, the doctor says she wants him to go to Peckham General Hospital to have some tests done. Del reluctantly agrees. Del worries he has AIDS due to his promiscuous past but it is only Irritable Bowel Syndrome, down to too many curries and Pina Coladas.
Appearances
[
]
1989