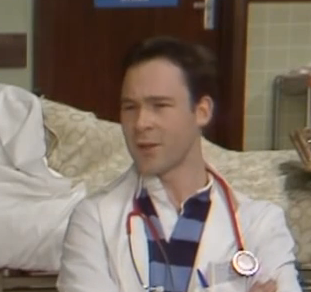 Dr Robbie Meadows was a minor character in Only Fools And Horses who appeared in 1 episode, Sickness And Wealth (5th February 1989). He was mentioned in The Sky's The Limit (30th December 1990) when Raquel said to Del about a doctor telling him to stay off fried food. He was played by Ewan Stewart.
Biography
Backstory
Robbie Meadows came from Scotland and moved down to London where he trained as a doctor. He was the local GP to the Trotter family and many others in the area until he was transferred to Peckham General Hospital in 1986.
1988
In 1988, Dr Meadows came across Del's name when chatting to some of his other clients. He asked to look at his reports and found Del said he was a vegetarian health freak when he knew that was not the truth. Del had been very worried about his health, and thought he had AIDS, and maybe it crossed his mind that it was another life threatening condition. Dr Meadows said hello to Del Boy and said to a worried Del they now know what is wrong with him, basically, nothing. Del is mightily relieved. He asks what the pains are and it is Irritable Bowel Syndrome, nothing serious, just down to too many curries and Pina Coladas. He mildly scolds Del for lying to his GP. Dr Meadows says he had a word with the council about Del's rent arrears and the council have given Del time to get himself together. Dr Meadows then tells Del to eat more healthy in future and discharges Del. He then gives him a prescription and leaves. Del then cries with relief, as he knew deep down he was worrying too much about his health, and that it was a bad case of "Yuppie Flu" after all. Well IBS.
In The Sky's The Limit (30th December 1990), Del's girlfriend Raquel Turner sees him with a bit of egg on his chin and says a doctor told him to stay off fried food. Obviously this was Dr Meadows. 
Memorable info
Born:
Full Name:
Parents:
Siblings:
Appearances
1989
Sickness And Wealth (5th February 1989)