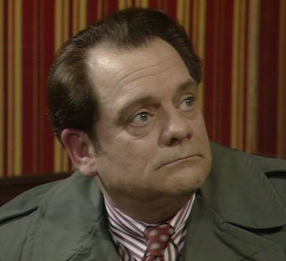 Sir David Jason is an English actor who played Derek "Del Boy" Trotter in every episode of Only Fools And Horses from 1981 to 2014. He also played Don Vincenzo Occhetti in Miami Twice, Part 2: Oh to Be in England, the 1991 Xmas episode of Only Fools, in which Ochetti was Del Boy's doppelgänger.
Pre Only Fools And Horses career
[
]
David Jason was born David John White on the 2nd February 1940 in Edmonton, London, England. He was the son of Arthur Robert White and Olwen White nee Jones.
David Jason acted alongside Ronnie Barker in the 1973 sitcom Open All Hours, in which he played Granville. At the time the show only ran for a pilot in 1973 and then a full first series in 1976, as the ratings didn't make the studios renew it.
Jason appeared in three episodes of the sitcom Porridge as elderly inmate Blanco. The show itself was led by Ronnie Barker.
Only Fools And Horses 1981-1993, 1996, 2001, 2002, 2003, 2014
[
]
After watching a repeat of Open All Hours which starred David Jason, Ray Butt, the producer of this new upcoming sitcom suggested David Jason for the key role of Derek Trotter. Originally John Sullivan, the shows creator and writer was not so sure. Another actor chosen for the role was Enn Reitel. Eventually David was given the role and filming begun in spring 1981.
David Jason had to play a character totally different from the buffoon Granville in Open All Hours. Del was a brash, fast talking South Londoner whereas Granville was a bumbling shopkeepers assistant and quite slapstick. Del was the head of the Trotter household which included his naive youger brother Rodney Trotter played by Nicholas Lyndhurst and Grandad Trotter played by Lennard Pearce. While the show was about 2 sibling market traders, and not your typical slapstick comedy, it was still intended as a sitcom with many, many witty one liners and mishaps.
Only Fools And Horses did not set the TV ratings alight in the first series in 1981 and the second series in 1982. A 3rd series seemed unlikely but in the summer of 1983, 2 episodes from the second series were repeated on BBC1 and hit the Top 10. So a 3rd series was commissioned. In late 1984, filming begun for the 4th series when actor Lennard Pearce died of a heart attack. So they bought in Buster Merryfield as Grandad's long lost brother Albert Trotter. Albert was much more active and feisty then his lazy older brother. Only Fools & Horses carried on throughout the 1980s as series and Christmas specials and into the 1990s, but the last full series was the 1991 series, however the show was to continue that year with a two parter Christmas special, then a 1992 Christmas episode, and a 1993 Christmas episode, Fatal Extraction.
Although David was also starring in new ITV police drama A Touch Of Frost, which he filmed his first series in 1993, and ITV commissioned more series, so it was assumed that Fatal Extraction would be the last episode of Only Fools And Horses. David started filming a new series of A Touch Of Frost in the summer of 1994, and Nick Lyndhurst was concentrating on his new sitcom Goodnight Sweetheart. But in early 1996, John Sullivan planned a final episode of Only Fools And Horses which would see the Trotters become millionaires, and David agreed to film the episode as he had a 2 month gap in his schedule that autumn. This episode later became a trilogy of episode where Del, rodney and Albert would finally become millionaires.
Only Fools And Horses came to a permanent conclusion in 2003 with the final Christmas Special "Sleepless in Peckham". Ten years later, in 2014, he returned alongside Nicholas Lyndhurst for a sport relief sketch special "Beckham in Peckham", in which they acted alongside former footballer David Beckham.
Other TV roles
[
]
From 1992 to 2010 David Jason appeared as Inspector Jack Frost in the detective drama Touch of Frost.
From 2011 to 2012 he appeared in the unsuccessful sitcom The Royal Bodyguard as Captain Guy Hubble. The slapstick comedy was heavily slammed by fans, and they even felt Sir David's good name was ruined a bit by a bad script. The series was not renewed after the final epsiode of Series 1 was broadcast in January 2012.
Jason returned in his role of Granville in the Open All Hours sequel Still Open All Hours, which originally came back as an anniversary special in December 2013, before then returning as a full series in late 2014.
On 2nd February 2020, David turned 80 years old.
Refs
[
]
https://en.wikipedia.org/wiki/David_Jason
Gallery
[
]