Christmas Trees
was a mini episode of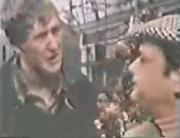 Only Fools And Horses, airing on the 27th December 1982. It saw 
Derek "Del Boy" Trotter
and
Rodney Trotter
trying to sell hookie Xmas trees down the market. Del thinks ethics make model aeroplanes.
Main cast
Guest cast
Observations
Edit
This special was first screened as part of a show hosted by Frank Muir, The Funny Side of Christmas, in which mini-episodes of Yes Minister, Open All Hours (which also starred David Jason), Butterflies (which also starred Nicholas Lyndhurst), and Last of the Summer Wine were also featured.
The vicar seen in this episode was the same vicar who appeared in Strained Relations. Played by actor John Pennington.
Chronologically, this episode is set just after Diamonds Are for Heather, despite being shown 3 days earlier. Del and Heather ended their relationship in Diamonds Are For Heather, which was in the run up to Christmas. This mini episode was set at Christmas.
AirFix make model planes and when Rodney mentioned the word "ethics" (morals, standards) Del said "Ethics. Make model aeroplanes don't they?".
Locations seen
Edit