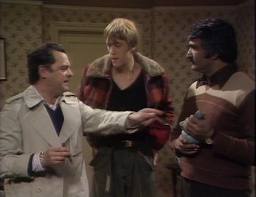 Cash And Curry was the 3rd episode of the first series of Only Fools And Horses, airing on the 22nd September 1981 with a viewing figure of 7.3 million. This episode saw Derek "Del Boy" Trotter get conned.
Del meets Vimmal Malik at a gala and Vimmal said he was a rich businessman and had a rivalry with Mr Rham. During an altercation between Rham and Malik and Odd Job Man, Rham's bodygaurd, Del told Rodney and Malik to get in the van quickly. Rodney drove off with Malik, leaving Del and Rham stranded. Del was annoyed but offered Rham a nightcap. Rham took Del to a restaurant where he said he had a rivalry with Vimmal Malik's family stretching back 100 years. Rham says Malik has a priceless statue that he wants back as it is his by rights. Rham cannot communicate with Malik though, due to the caste system, so Del and Rodney agree to act as go betweens. Rham is willing to offer £4000. Del sees an eye for profit and plans to con Rham and Malik.
Malik is not happy that Del and Rodney spoke to Rham. He scolds both of them for it. Del reckons Malik may not be as rich as he said he was last night, as he is staying in a grotty bedsit. Del says Rham has offered £2000 for it, this means Del can earn £2000 for it. When Vimmal goes to collect the statue, Rodney asks Del why he is trying to con him out of £2000.
Malik eventually accepts the offer, but is unwilling to hand over the statue before receiving the cash. A problem emerges when it becomes clear that Rham is equally unwilling to handover the money before receiving the statue. Rodney at this point attempts to convince Del to let the deal go, but Del is unrelenting and decides to raise the £2,000 himself by selling off unwanted or unneeded items from the flat. Eventually he succeeds in convincing Rodney to go along with the plan.
Del pays the money to Malik and gets the statue. Del goes to the restaurant with the statuette to see Mr Rham. The waiter there does not know who Mr Rham is at first. Del says he is the real owner but the waiter says he is the real owner. Del and Rodney say they saw the waiter the other night when Mr Rham and Odd Job Man were drinking with himself and Rodney. The waiter, well owner then remembers Mr Rham and says he gave him a bouncy cheque, and went to the address written on the back and Rham had scarpered owing 3 weeks rent. Rodney starts worrying, that Rham is a con man. Del says that Rham said he owns this restaurant and owns 18 of them. The real owner says he was fibbing, perhaps. Del says he just paid £2000 for this statuette. The owner says that they can be bought down Portobello Road Market for £17 each, and points to 2 statuettes on a shelf across the room. Del and Rodney realise they have been stitched up.
Meanwhile Rham and Malik are being driven in a car down the motorway, congratulating themselves and laughing and joking at Del and Rodney for falling for the scam. They have done this in other cities and now plan to head to Liverpool or Birmingham to con more people.
Del goes to Malik's address but he is not there, all this things have gone, he has scarpered, leaving no trace of where he has gone to. Del realises he has been duped, and if they went to the police, it would affect their pride. Del suggests going for a dinner. Rodney jokes that there is a curry house down the road. Del slings the statuette at Rodney but it misses.
Main cast
Guest cast
Observations
Edit
Locations seen
Edit