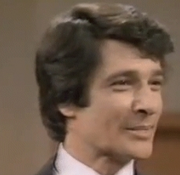 Abdul Khan was a minor character in Only Fools And Horses who was mentioned in Diamonds Are for Heather, and appeared in 1 episode, To Hull And Back - (25th December 1985). He was a diamond merchant who lived in Hatton Garden, Holborn, London. Abdul was played by Tony Anholt.
Biography
[
]
Backstory
[
]
1960
[
]
In 1960, Abdul's father ran the Bermondsey Wholesale Jewellry Emporium, where Del Boy bought five glass diamond rings to pick up girls.
1982
[
]
In 1982, Del Boy got an engagement ring with a cluster of solitaires on sale and return off Abdul at Hatton Garden. When Heather said she wanted to get back with her estranged husband Del said they were on a weeks approval.
1985
[
]
By 1985, Abdul's brother was in France, his cousin was in Holland and he even had a distant uncle in Outer Mongolia, but he never talks about him.
In 1985, Boycie and Abdul came up with a scheme to smuggle diamonds from Holland for cash. They wanted a courier, someone to take the money across to Amsterdam, pick the diamonds up and come back.
1986
[
]
Abdul was mentioned again in Video Nasty (28th September 1986).
Memorable info
[
]
Born:
Full Name: Abdul Khan
Parents:
Siblings: A brother
Spouse:
Children:
Cousins: Hussein
Uncles: An Uncle in Mongolia
Appearances
[
]
To Hull And Back - (25th December 1985)